Jetflite FBO – Winter 2022-23
Jetflite FBO might not be the first name that comes to the general public's mind when asked who's organizing your ground handling in Helsinki. But for those who know them and have used their services, it's the definition of high quality. We chatted with Sami Simola (Ground Handling Manager, Jetflite FBO) about all and everything FBO and ground handling related. Sami shared his thoughts on, for example, what happened during the first operational year.
At your service since July 2021.
Jetflite FBO began its operations in July 2021. Since then, a lot of aircraft have landed and taken off again. What's happened with Jetflite FBO? Well, a new crew resting lounge saw daylight in July 2022. The new swanky lounge offer pilots and flight crew a chance to put their feet up and relax while the aircraft is having its maintenance done. Facilities include a rest area, recliner chairs, a mini kitchen with refreshments, showers, and toilets.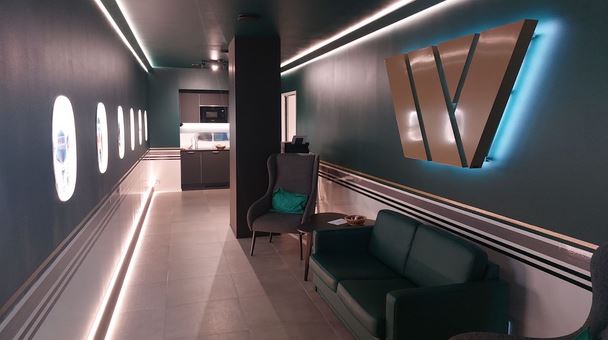 For everyone who has no idea how arriving business jets and ground handling service connect, we asked Sami Simola to explain a typical FBO service situation, how it goes, what happens first, etc. "It usually starts with an email request. We check availability for that handling request, get a slot id from the airport, confirm the reservation for the customer and give them their slot id and all details. Customers will add that to their flight plan. We reserve those services for them if there are any additional wishes or needs on top of the basic handling request." Mr. Simola describes and continues:
"Then when the day comes and the flight arrives, we meet them, guide them to parking space, add wheel blocks, secure the wing area, escort the passengers to the terminal and handle their luggage. After that, we return to talk with the flight crew, make sure everything's good and ask if they need anything extra. And the same happens reversed when the aircraft is leaving."
When asked about the time of the requests, he replies that it varies greatly, but it's usually something between two days and a month. Though ambulance flights can arrive even during the same day, obviously, arriving and leaving ambulance flights always override commercial flights – they will always get a slot asap, no matter how congested the airspace might be. Other flights always make room for urgent medical flights – be it a plane or a helicopter.
Winter season 2022-2023
Low visibility, darkness, and winter can pose a challenging combination for aviation, as we wrote in our previous blog post about winter flight operations. But for Jetflite, flying in winter conditions is just a routine operation; the same goes for ground handling. Though there are some differences in whether ground handling is done during the summer or winter. The biggest difference is that there's a bit more to do with the aircraft during winter, like deicing procedures.
Overnight hangar services are also more requested during the winter time. Hangar services are especially in demand during true winter weather, like two-digit minus degrees, snowing, etc. It's easier just to tow the aircraft to the hangar for the night. There's no need to empty the catering stuff for fear of them freezing. And also if the next day has fine weather, one might save the cost of de-icing when taking off again.
Jetflite FBO is prepared to serve you in the winter season 2022-23 and make sure your visit to Helsinki airport is smooth and enjoyable.